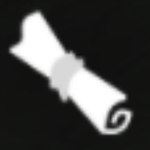 Quests are an activity in Build A Boat For Treasure. Listed quests are locked until the player has reached the end at least once. Unlisted quests do not require you to reach the end at least once. You cannot attach blocks to your avatar while doing some quests, although you can attach blocks to your HumanoidRootPart (which is the case with the firework attachment glitch). Upon completing a quest, Blocks and/or Gold is rewarded to the player who completed it. Doing a completed Listed quest again usually will not award the player materials again. Unlisted Quests will usually not reward the player after completing it the first time. You cannot place any type of Jet Turbine while doing a listed quest, with the exception of The Rings quest.
8 Listed quests are active
4 Quests have been removed
3 Unlisted quests are active
Listed quests can be started from the Quests menu. A quest can be canceled by clicking "End Quest" in the Quests menu.
Unlisted quests can be started by performing certain actions and ended by completing them or dying.