This article is a stub


You can help Build a boat for treasure Wiki by expanding it. If this article has sufficient information, please remove this template.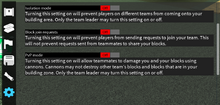 PVP Mode was added in on 7/26/2018 and it allows the player to fight others if they are not in the base and if they both have it enabled. The cannons are the only thing that can damage a player and does around 40 damage to the player. It only destroys your teammates' blocks once your team has launched.
Trivia
Can be used to settle disputes.
Can be used to field test the boats to see if it can take the player to the end.