Wait a minute... that's not on the map.


This article is outdated and/or is missing information. You can help Build a boat for treasure Wiki by expanding it. If this article has up-to-date information, please remove this template.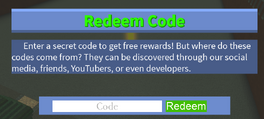 DISCLAIMER: Administrators cannot create codes nor ask the creators for codes. The Wikia's Discord server has a more updated database on the list of codes.
Codes were added on 8/23/2018. Codes can be redeemed for blocks or gold. You can find the codes when you go to Settings and scroll down. They are not case sensitive.
Known Codes
NOTE: Some codes on this page will work in new servers. Please join a VIP or new server before marking a code invalid or removing one.
If any of the codes go invalid, please tell us in the comments section, since it's not possible for people who have already claimed the code to check whether the code is still valid or not.
| Code | Validity | Release Date | Expiration | Reward(s) |
| --- | --- | --- | --- | --- |
| test | Expired | 8/23/2018 | 8/24/2018 | |
| huge treasure chest | Expired | 8/26/2018 | 9/25/2018 | |
| tasty treasure | Expired | 8/26/2018 | 9/25/2018 | |
| =D | Valid | 8/26/2018 | ??? | |
| =p | Valid | 8/26/2018 | ??? | |
| hi | Valid | 8/26/2018 | ??? | |
| squid army | Valid | 8/27/2018 | Unknown | |
| baffling butter | Expired | 8/27/2018 | 9/24/2018 | |
| t-rex | Expired | 8/27/2018 | 8/28/2018 | |
| fast potato | Expired | 8/28/2018 | Unknown | |
| moldy bread | Expired | 8/28/2018 | Unknown | |
| fat rainbow | Expired | 8/29/2018 | Unknown | |
| friendly t-rex | Expired | 8/29/2018 | 9/20/2018 | |
| cill trill | Expired | 9/9/2018 | 9/9/2018 | |
| fabulous fabric | Expired | 9/9/2018 | Unknown | |
| ice pops | Expired | 9/9/2018 | Unknown | |
| fire+work | Expired | 9/9/2018 | Unknown | |
| code fission | Expired | 9/9/2018 | Unknown | |
| up above | Expired | 9/9/2018 | Unknown | |
| leescode | Expired | 9/15/2018 | 9/20/2018 | |
| code fashion | Expired | 9/22/2018 | 9/23/2018 | |
| chillthrill709 was here | Valid | 9/27/2018 | ??? | |
| october squid | Expired | 9/28/2018 | Unknown | |
| chill says hi | Expired | 10/2/2018 | Unknown | |
| the official butter | Expired | Unknown | Unknown | |
| twisted treat | Expired | 10/31/2018 | Unknown | |
| new planes | Expired | 11/23/2018 | 11/24/2018 | |
| early gift | Expired | Unknown | Unknown | |
| gifts galore | Expired | Unknown | Unknown | |
| 200M visits | Expired | Unknown | Unknown | |
| sorryfortheping | Expired | Unknown | Unknown | |
| Christmas hype | Expired | 12/18/2018 | 12/19/2018 | |
| Christmas tree | Expired | 12/19/2018 | 12/20/2018 | |
| Friendly Gingerbread Man | Expired | 12/20/2018 | 12/21/2018 | |
| Happy holidays | Expired | 12/21/2018 | 12/22/2018 | |
| On the 22nd day of Christmas | Expired | 12/22/2018 | 12/23/2018 | |
| Reindeer | Expired | 12/23/2018 | 12/24/2018 | |
| Christmas Eve | Expired | 12/24/2018 | 12/25/2018 | |
| Merry Christmas | Expired | 12/25/2018 | 12/26/2018 | |
| Happy New Year | Expired | 12/31/2018 | Unknown | |
| Code Fuzion | Expired | 1/4/2019 | Unknown | |
| a scattered code | Valid | 1/11/2019 | ??? | |
| Cannon Crazy | Valid | 1/17/2019 | ??? | |
| Nothing | Expired | 1/19/2019 | Unknown | |
| Bloxed | Valid | 1/19/2019 | ??? | |
| Gnomed | Expired | 2/9/2019 | 2/13/2019? | |
| Crystal Clear | Expired | 2/9/2019 | 2/13/2019 | |
| Ow | Valid | 2/10/2019 | ??? | |
| New set of wheels | Valid | 2/11/2019 | ??? | |
| the truly longest code yet | Valid | 2/12/2019 | ??? | |
| =] | Valid | 2/13/2019 | ??? | |
| Happy valentines day! | Valid | 2/14/2019 | ??? | |